Today, we speak with Brianna Donahue, a senior Political Science major from Mullica Hill, NJ (Gloucester County) who lives off campus. Brianna will share her #PROFspective with us on what it's like to be a Rowan University student and how she gets the most out of her college experience as a Rowan Prof.
Name: Brianna Donahue
Year: Senior
Major: Political Science
Minor: Public Policy
Hometown: Mullica Hill, NJ (Gloucester County)
Where do you live: Off-campus
First generation college student?: Yes
Academic or social clubs: Rowan Institute for Public Policy & Citizenship (RIPPAC) and Pi Sigma Alpha (political science honor society)
On your busiest day, what academic, non-academic and social responsibilities are you juggling? The busiest days include working at my job 9-5 p.m., doing all of my coursework, being a member of my sorority, and job hunting since I'm graduating this semester.
Did you ever have a moment of uncertainty within your major? How did you get through the challenge? I was originally a Journalism major before I took an American Government class and realized I wanted to pursue a career in public service. I was concerned about how switching my major would affect my graduation timeline, but I knew I wasn't the only college student who has changed their path. I took a few summer and winter classes so I wouldn't be behind and had my academic advisers helping me stay on track.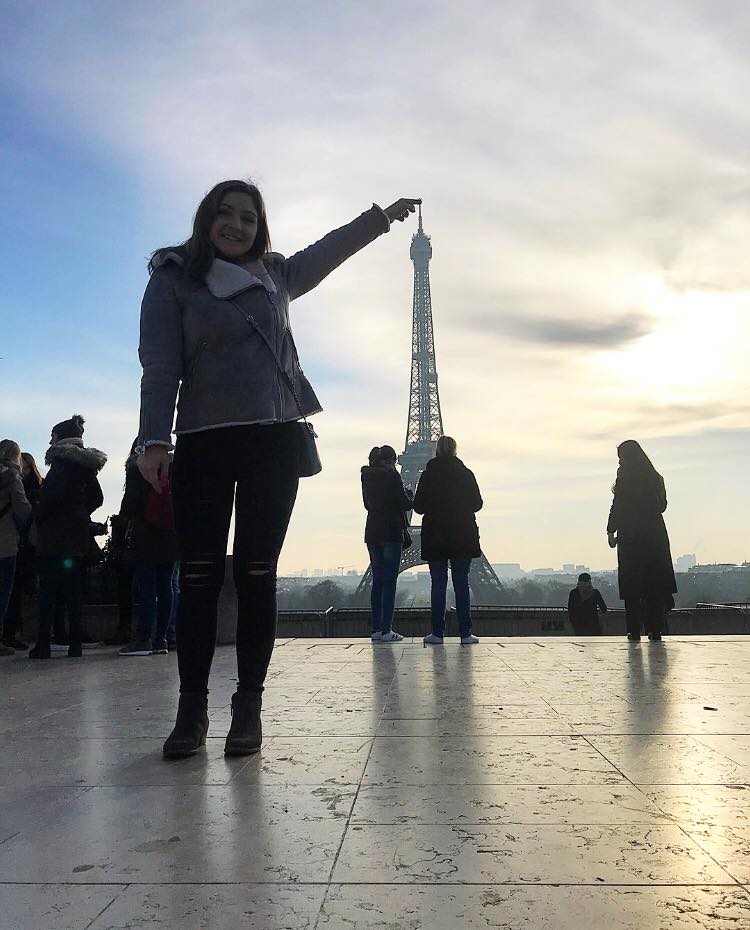 Tell us about one moment that made you feel like Rowan was the right fit for you. A moment that made me feel like Rowan was the right fit for me was the beginning of junior year. I had just joined a sorority, acquired an internship, and was also working full-time. I was also planning to study abroad in Europe that winter. I felt like I was finally achieving the goals I set for myself going into college.
Tell us about your transition into college and how you pushed through any challenges. At first, I was super excited for the transition into college. I was ready to be independent and start working toward my future. After a few months at my first college, I was crushed when I realized it wasn't the right place for me. I knew I had two choices, to either stay and push through or leave and start fresh at a new university. I made the decision to leave and I've never looked back since. When I got to Rowan I immediately immersed myself into activities on campus. I joined Rowan Radio, was Assistant Arts Editor for The Whit, and joined a sorority.
What advice would you give your high school self about choosing a college? There is currently a stigma that going to local universities or community college is not the ideal college experience. There is this idea that if you don't go away you won't have the opportunity to experience the world or be successful. Even though I now know this isn't true when I
was a high school senior I felt the pressure of this in the back of my mind. I picked the school farthest away in an environment nothing like my current one because that's what I thought I was supposed to do. If I could go back and give myself any advice it would be to not pick a school for anyone but myself. I was too busy focusing on fitting the image, that I didn't realize I wasn't ready to go 8 hours from home. For some people going away is the fresh start that they need, but it wasn't for me and that's okay. Transferring to Rowan allowed me to grow and succeed in ways I never imagined. I've studied abroad in Europe, held local, state, and federal internships, and met some of my best friends. The biggest lesson to be learned is that there is no one size fits all college experience and to choose a college that best helps you grow.
Like what you see, come visit us!
Story and photography by: Alyssa Bauer, junior public relations major