Today, we speak with Marcella Mazzuca, a sophomore physics major from Mullica Hill (Gloucester County) who lives on campus at Rowan Boulevard Apartments. Marcella will share her #PROFspective with us on what it's like to be a Rowan University student and how she's getting the most out of her college experience as a Rowan Prof.
Name: Marcella Mazzuca
Major: Physics within the College of Science & Mathematics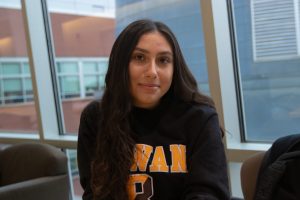 Minors and concentrations: Mechanical Engineering minor, Math minor, Certificate of Undergraduate Studies in Computer Programming
Year: Sophomore
Hometown and County: Mullica Hill, NJ (Gloucester County)
On Campus Resident: Rowan Boulevard Apartments
Academic clubs: Physics Club
Share an "a ha!" moment you've had within your major that made you feel passionate about your intended field.
In the back of my mind I always knew I wanted to study physics; however, I originally came to Rowan to pursue an engineering degree. I enjoyed my classes my first year but both semesters I especially excelled in my physics classes. Fall semester of my sophomore year was my first semester without a real physics class, which quickly made me realize that although I enjoy engineering, physics is my true calling. After changing my major to physics and switching mechanical engineering to my minor, I looked over my new course schedule for the rest of my time at Rowan and I instantly knew I had made the right decision!
Share a moment in which you have felt that Rowan is a welcoming environment to you?
I was extremely nervous to begin classes my first semester. I walked into Science Hall, found my classroom and sat down at an empty table waiting for my first college class, Mechanics, to begin. Three guys came in and sat down in the empty seats at my table, and we all quickly became friends. This class ended up being one of my favorite classes thus far due to the friendships I made, and the professor, Dr. Berg. He was one of the best professors I've had so far. That class made me feel very welcomed at Rowan, and it was a great way to start off my first semester at college.
Why did you choose Rowan?
I chose Rowan because of its strong reputation for my major and minors. I was drawn to the hands-on approach this university takes for teaching the sciences. After visiting the university, I felt like Rowan was going to provide me with the most opportunities for personal and academic growth, and it was going to educate me beyond the classroom. I'm happy I chose to go here!
What's your favorite thing about your typical Friday at Rowan? 
My favorite thing about my typical Friday at Rowan is getting to go to the library and get my work done. I don't have Friday classes, so I like to wake up, get coffee, and spend the day at the library catching up on school work and preparing for the next week. It's a great end to a long week of classes!

Like what you see? Come visit us!
Enter for a chance to win a Rowan t-shirt! Email RowanBlog [at] rowan.edu with the date and time of your upcoming campus tour … we may just email you that we're going to surprise you while you're visiting!
Story and photography by:
Bianca Torres, sophomore Music Industry major