Serving as a volunteer peer mentor for the Dr. Harley E. Flack Student Mentoring Program opened the door for  Management Information Systems (MIS) major Steven Brito to land an exciting internship in his desired field, beginning early in his junior year. With his internship, which is on campus within the web services portion of the Office of Strategic Planning & Management, the Plainfield (Union County) native learns new and useful skills for his future career while working on projects he enjoys.
His mentor in the program, Dr. Rihab Saadeddine, connected him with this opportunity. Gaining real-life insight into his industry, through a paid position right here on campus, gives Steven an enviable work-life balance. While working at his internship, he says, 
"My primary focus is the transfer of Drupal sites into Cascade," he says. "I'm managing content to help build websites as the university moves to a new system." Through his work, Steven is learning how to properly structure websites and troubleshoot IT-related problems, while building his network of contacts.
While juggling academic excellence, his Harley Flack volunteer position and his internship, Steven also works as a resident assistant in an on campus residence hall. His responsibilities range from coordinating campus-wide programs, managing administrative duties, and enforcing the university's policies.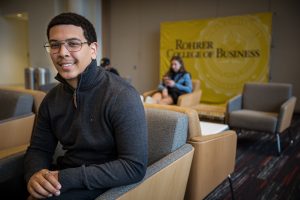 Steven says, "My typical days at Rowan are very busy, but busy is beautiful because the busier I am, the closer I am to achieving my ultimate goal."
He joined the Dr. Harley E. Flack Program so he could help incoming first-year or transfer undergraduate students adjust to college life at Rowan University. "I didn't have a mentor – making my freshman year difficult, so I thought 'let me help someone,'" he explained. "I'm always willing to give back." That giving back ultimately opened a door to his future career.
Beyond the Classroom highlights Rowan University-provided experiences outside of traditional classroom learning that complement and support students' career aspirations during this pre-professional phase in their lives.
Story by:
Alexander Belli, senior public relations and advertising dual major
Photos by:
Vanessa Vause, senior public relations and advertising dual major