"We're creating microfluidic devices to take analytical measurement of biologically significant molecules. Now, I know that sounds confusing…"
When I first met with Jeremy, he spoke a language I probably could only follow about 80 percent of the time … but after listening to him explain and talk about his work, I walked away with an abundance of new knowledge and a huge appreciation for engineering. I could hear the passion through his words as he spoke about what he did. It was quite obvious that Jeremy has found his fit here at Rowan.
This sophomore biomedical engineering major lives in the Whitney Center along with other like-minded honors students. His major is only three years old, creating a close-knit feel among the fellow students.
"Biomedical engineering is like a mix of mechanical, electrical and chemical engineering with a focus on medicine," says Jeremy. This was something I learned the day I interviewed him.
Jeremy has a strong interest in cell regeneration and nerves. His research lab allows him to expand his knowledge, gain real-life experience and work on projects that are being used by professionals in the field.
"…it's not as confusing as it sounds. Basically, we are shrinking down technology that already exists to make a 'lab on a chip' sort of thing." This was Jeremy's way of putting the scientific explanation of his project into simpler terms.
Jeremy landed himself an interview with Assistant Professor of Chemistry & Biochemistry Dr. James Grinias after being recommended by a professor who thought he would be a great addition to a research team. The Henry M. Rowan College of Engineering provides many opportunities to hop onto a research project in one of the multiple labs throughout campus. These research teams consist of a few students, often a graduate student, and a doctor overseeing the entire project. Some projects are paid through federal work study and large-scale projects offered through the College of Engineering often pay, too. But mainly most of the research done on campus by students is completed for experience only. This work allows the student to build their knowledge, have an impact on projects outside of the classroom, expand their horizons of the science field, boost their resume, and experience and interact with research experiments and deadlines as they would be presented in the work field.
Jeremy is working on a project along with two other sophomores and a graduate student under the direction of Dr. Grinias. He devotes 10 hours a week in the lab, researching and collecting data and information to help him with his hands-on work. The project has been going on since September.
"Before I could start building and designing, I had to conduct a lot of research to get up to speed with where we are with analytical chemistry. This includes reading scholarly journals and papers. Now I've shifted from researching to more hands on work," Jeremy says.
The students working in the lab get to apply what they're learning in class to a real-life project. His project includes 3-D modeling that Jeremy designs and the South Jersey Tech Park brings to life.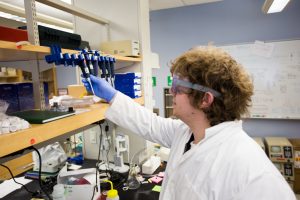 "I love what I do. It's challenging. I get to learn something new every day whether it's new information with programs I use or breaking news within the science world."
The experience has opened Jeremy's eyes to new paths he could go down that he wasn't even aware of until he came to Rowan. From learning coding to new engineering lingo and languages, Jeremy's knowledge is constantly expanding. The research opportunities provided by the college expose students to new experiences every semester. Interested in joining a research team yourself? You can talk to your professor and possibly get recommended, like Jeremy did, or apply to join a lab.
Beyond the Classroom highlights Rowan University-provided experiences outside of traditional classroom learning that complement and support students' career aspirations during this pre-professional phase in their lives. 
Like what you see? Register for a tour or open house. 
Related stories:
Sidney, Video Tour Henry M. Rowan College of Engineering at Rowan University
#PROFspective: Chemical Engineering Major Dylan Regan
Check out our YouTube Housing playlist!
By: Vanessa Vause,
Junior, public relations and advertising double major