Today, we speak with Destiny Shoultz, a senior elementary education and liberal studies major from Pine Hill (Camden County), NJ, who commutes from home. Destiny will share her #PROFspective with us on what it's like to be a Rowan University student and how she's getting the most out of her college experience as a Rowan Prof.
Name: Destiny Shoultz
Majors: Elementary Education and Liberal Studies
Minors: Writing Arts and American Studies
Year: Senior
Hometown and County: Pine Hill, NJ (Camden County)
Commuter: Yes, from home
Social Clubs: Elementary Education Club
Do you have an off-campus job? I work at Bath and Body Works in the Deptford Mall.
Why did you chose your major? I chose my major because ever since I can remember, I wanted to become a teacher. I remember playing "school" with my cousin and never wanted to switch roles. I just HAD to be the teacher! Also, my father and both grandparents are teachers, so it initially may be in my blood stream!
One reason why you chose Rowan? Rowan University has a great education program and I wanted to make sure I got the best knowledge I could receive. I've always heard outstanding things about Rowan University and their programs for undergrads who wanted to become a teacher. Also, I wanted to stay at home to help my mother out with finances and Rowan wasn't far from home. It was the best decision I could have made, attending Rowan University!
My typical day as a Rowan student:
My typical day as a Rowan student varies, yet the busyness does not leave my side. I have class every day of the week, there is no time to waste. On Monday nights and Wednesday nights, I work at Bath and Body Works in the Deptford Mall, therefore those days are my busiest because I go from class, straight into traffic, which leads me to work.
On Tuesdays, I have one 8 am, but that is only until 9:40. Most Tuesdays I do not work, so I usually drive back home, a 35- minute commute, and rest. After sleeping, the remainder of the day is mine. I typically run my errands on Tuesdays. These include grabbing groceries, walking my dog, shopping and paying bills.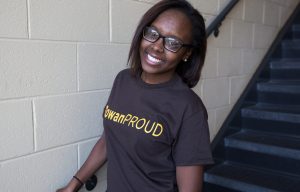 On Thursdays, I visit Radix Elementary School to see my first grade students for my practicum, since I want to become an elementary education teacher in the near future. This is from 8 am until 4 pm. Afterwards, I run back to Rowan because I have class at 6:30. I get there pretty early, around 4:30/5:00, which is perfect because I use this as homework time for myself. I go into Campbell Library, on the second floor, to focus on my studies.
On Fridays, I have class from 9:30 in the morning until 12 in the afternoon. As soon as class is over, I have work from 1 pm until 9 at night. On the weekends I work. There is never a Saturday or Sunday that I have off unless I request off for a special occasion. All in all, my life consists of working and focusing on my schoolwork. I have a busy work and school load, but I still manage to get it all done to soon become a successful graduate from Rowan University.
Like what you see? Register for a tour or open house.
Related stories:
#PROFspective: Elementary Education and English Major Nicole Wyglendowski
What I Wish I Knew: Students Share Their Experiences [Video]
Commuter Survival Guide: Top 10 Tips
Story organized and photography by:
Vanessa Vause, junior public relations major and advertising minor