Today, we speak with Shane Walsh, a geography major from Gloucester County, NJ, who commutes. Shane will share his #PROFspective with us on what it's like to be an adult learner at Rowan University and how he's getting the most out of being a Rowan Prof.
Name: Shane Canyon Walsh

Major: Geography
Minors and Concentrations: Geographic Information Systems (GIS) Minor, Community and Environmental Planning Minor, Concentration in Geoscience
Year: Senior
Transfer Student: Yes, from Delaware Technical Community College / Community College of Philadelphia
Hometown and County: Carlisle, Pennsylvania
Commuter: Yes I live with my wife, our two sons and my mother-in-law, in Gloucester County.
Do you have an off-campus job? Besides attending Rowan I am a stay-at-home father.
Why did you choose your major? When we still lived in Philadelphia, I was studying Environmental Engineering looking to transfer to a university in Philadelphia. Somewhere along the line I read a quote that said "Engineers change the environment to fit humanity's needs and scientists seek to understand nature so that we may live with it," or something like that. At that point I knew I was a scientist, not an engineer.
I chose geography because I think that I have been a geographer my entire life, before I knew it. I guess geography chose me.  I am really interested in the intersection of geoscience, natural disasters and mapping. In the late 1990s and early 2000s I was in the U. S. Coast Guard and I took part in a number of natural disaster responses and during those experiences we had less than adequate mapping of the locations we were operating in. I feel strongly about developing better mapping strategies for helping first responders so they don't waste time or resources and can better spend their time saving lives.
One reason why you chose Rowan? Honestly, it was close. My wife and I decided to move from Philadelphia to New Jersey and I was looking at still going to a university in Philadelphia when I started thinking about the in-state/out-of-state tuition and then I decided on Rowan. I am extremely happy that I chose Rowan. I can't say enough positive things about the faculty in the School of the Earth and Environment.
My typical day as a Rowan student:
I cannot say that I have a normal day as my schedule at Rowan is different each day. However, a somewhat normal day may go something like this … most mornings I wake up at about 6:30 a.m. and take the dog out, then start making breakfast and lunches for our two sons. Our older son, is in second grade and our younger son, comes with me to Rowan's Early Childcare Center (which he loves!) on Mondays, Wednesdays and Fridays. On Tuesdays and Thursdays he stays home with his grandmother. Our house is pretty crazy in the morning but we usually seem to pull off getting out of the house somewhat on time.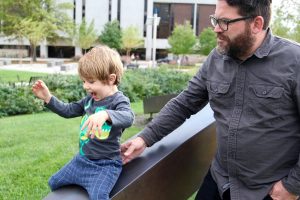 Tuesdays and Thursdays are slightly more interesting. By the time I get to Rowan the lots are all full on the northwest side of campus so I end up parking off campus, near the Glassboro High School athletic fields. Then I book it over to Robinson Hall.
This semester I finally have a little bit of time before class to work out. It's been ages since I've exercised so it's been interesting slowly getting back into shape, and I do mean slowly. Then I head off to class.
Side note: this semester I am taking Physical Geology, Geomorphology, Intro to Planning, Research Clinic and Senior Seminar. I also am conducting an internship with Dr. Zachary Christman, the GIS program director and Dr. Jody Manning, a history professor at Rowan. I have created a series of maps documenting land use/land change in and around Dachau Concentration Camp, from 1945 to 2017. These maps are fueled by Dr. Manning's research into Holocaust and Genocide Studies. Dr. Manning and I will take part in the Rowan Center for Holocaust and Genocide Studies Research Colloquium series on November 8th to discuss the Dachau Mapping project.
Back to my somewhat normal day … I pick up the kids, hit the playground, come home, make some dinner, then my wife, Abby, gets home from work. When the boys finally get to sleep I finish the dishes (most nights) and then get to my homework. It's kind of crazy to think that all the work I've done at Rowan has basically been done from 9 p.m. to midnight as that is when I pass out. I have to really thank my wife, Abby, for working an intense job that allows me to stay home with the boys and go back to school and I have to really, really thank my mother-in-law, Martha, for helping out so much with our boys so that I can go to class. I feel that my job is really easy, all I have to do is go to class and learn new and interesting things.
Check out Shane's website here.
Story organized and photography by:
Jen Green, Rowan alumni
Vanessa Vause, junior public relations major and advertising minor
Like what you see? Register for a tour or open house.
Related stories:
#PROFspective: Geographic Information Systems Major Tim Lemon
#PROFspective: Environmental and Sustainability Studies Major Katie Elliott
Commuter Survival Guide: Top 10 Tips