"It's the high-end 'Tinder' to connect academically."
"The movement of the modern day student."
"This is the app we've been waiting for."
Buzz about senior finance student John Rondi's newly launched app has been taking the internet by storm. John, from Wayne, NJ, held a Launch Party Celebration when the app was officially released for students to download at 9:00 p.m. Keep reading to find out how this app was conceptualized, produced, and what role Rowan University had in the process …
It's 2:00 a.m. for John Rondi on a spring school night his sophomore year as he is up late writing a paper. At this hour, no tutors are available and John is in desperate need of help and advice. He sees his hallmate up, a writing arts major, working on accounting homework. Being a finance major, this is a strength of John's and he takes notice to the fact that he could barter his skills in exchange for his friend's writing knowledge. And then it all clicked.
There should be a way for students to connect to other students of all majors across campus at any hour, wherever they are, and John was going to find that way.
Having an entrepreneurial spirit, John imagined what it would be like to have an app to easily reach out to students, offering his strengths in exchange for help in a department where his skills weren't as strong. He realized that there was a real market for exchange of skills and services, especially across university campuses. John then started developing his dream into a reality.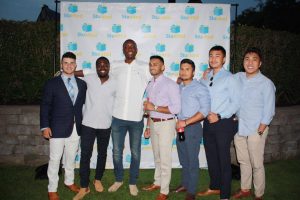 He began bouncing around ideas with fellow Rowan students to further develop the idea and come up with a name. The whole atmosphere of the app was to unite students across campus and sooner or later, the name Stunited came into play. Connecting the words students and united was just the start for connecting the real students.
Taking advantage of what his school had to offer, John entered in the Rowan Business Model Competition with Stunited where he advanced through multiple rounds of questions and pitches, leading him to the live final pitch. This 12 minute speech conducted in front of a panel of judges won him the winning spot, giving him a list of sponsors to utilize, and not to mention a $4,000 check to use for advancement and execution of his idea.
With the help of his sponsors, his friends and family, and team, the Stunited app was complete and ready to launch on August 10th, 2017. Over the summer, John put in countless hours of work promoting, marketing and spreading the word of his creation to students in colleges across the country. They came up with creative ways to conduct a countdown to stir up the excitement leading up to the launch date.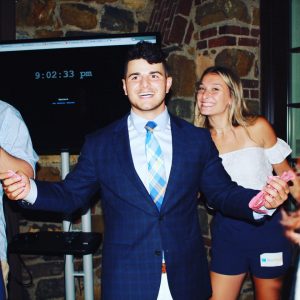 The team consists of not only Rowan students, but also students at schools in Pennsylvania and Florida to name a few. This app is for all students to download and utilize within their campuses. Backing up John is a graphic designer, a videographer, a blogger and ten brand ambassadors who directly influence his presence across social media.
"The connections I received from Rowan have helped immensely," says John. "We are excited to have Rowan be the 'home school' of Stunited where students can connect and grow from one another. We're all in this together, after all, Stunited is Rowan."
Be sure to download the app for the next time you're working on a paper in your dorm room at 2:00 a.m., wishing there were ways to receive help from a fellow student.
For more information on the app, check out the Stunited website here!
#StayConnected through their Facebook, Instagram and Twitter.
Story organized by: Vanessa Vause, junior public relations major and advertising minor
Like what you see? Register for a tour or open house.
Related stories:
#PROFspective: Business Administration Major Anthony Ramos
Ask the PROS: 10 Best Aspects of Rowan [Video]
#PROFspective: Marketing Major Lauren Bitzer