Upon arrival at college, all students are bound to have heard at least a few warnings of the dangers of the "Freshman Fifteen" and the limited options available at the dining hall. But while Rowan's campus continues to expand and improve, so does the selection of food students accessible to students. With a range of options from Prof's Place to the Marketplace or Holly Pointe cafés to the Food Court, there really is something for everyone to enjoy with their RowanCard. Dining hall food may have gotten a bad reputation thanks to negative experiences elsewhere, but our on campus food provider, Gourmet Dining, does an excellent job of defying that stigma.
There is a dining option for every possible scenario in the busy lives of Rowan students. If you're on the go or only have time for a quick meal between classes, the Food Court (located on the first floor of the Chamberlain Student Center) has a range of delicious choices. The Green Zebra offers a build-your-own salad deal for a meal swipe, while the most popular station in the Food Court is Sono, the on-campus equivalent of Chipotle or Panchero's. One meal swipe grants you a filling burrito or bowl that'll prevent those mid-class stomach growls. Among the other tempting options is a pizza and chicken station and a build-your-own macaroni and cheese bar that rotates out from time to time with even more types of cuisine.
All of the Food Court options allow you to take your food to go – making it a convenient pit stop on the way back to your dorm, apartment or class – but have a spacious seating area where students often meet up with friends for a bite to eat.  For those with a few extra minutes to spare, there is also a game room in the back of the Food Court to hang out and compete in fun arcade and video games with friends.
Like the Food Court, Prof's Place (which is just down the hall) also offers quick and tasty meals to go. Grill Nation churns out burgers, fries and even breakfast foods seven days a week, while Jersey Mike's creates the delicious hoagies and cheesesteaks people love. The fun atmosphere with music, billiards and big screen TVs makes it the perfect place to unwind with friends after a long day of classes. Prof's also hosts trivia nights and events on a weekly basis to liven up a plain old weekday. With more flexible hours, Prof's Place even stays open past the other dining halls to conquer late-night cravings until 1 a.m.!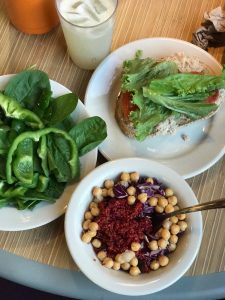 Even seemingly ordinary dining hall buffet food can be creatively combined to make a unique, tasteful and healthy meal. Sophomore Kailey Bertelson, a public relations and advertising double major from Ocean County, successfully pairs her love of food with the extensive resources that on-campus dining provides. "My favorite place to eat on campus is the Marketplace (located on the main floor of the Chamberlain Student Center)," she shares. "There are always so many different foods to choose from and you're able to make things just the way you like them."  
And when Rowan does not have a certain food that students would like, they are open to accommodating dietary requests. "I am really into clean eating, and noticed that the dining halls initially did not have some of the fresh foods I am able to get at home," Kailey says. "I shared this concern with the Gourmet Dining team, and within a week or so, the fresh avocado and quinoa I was craving was available in the Marketplace. I was so glad to see how responsive Rowan was to my suggestions, and how willing they were to make the dining experience even greater for everyone."
The Glassworks Café, located in the Holly Pointe Commons residential building constructed just last year, conveys a similar style of dining as the Marketplace on the other side of campus, making a good meal even more accessible no matter where you are at Rowan. Open to all students, it offers a wide selection of buffet style food and unique desserts that students love. Even the pickiest of eaters can easily find tons of delicious dining options throughout campus with their Rowan Card, keeping them full and happy all semester long.
By: Nicole Cier,
Sophomore Writing Arts major