Welcome to Rowan at Home, our new series to give you a glimpse into Rowan University, our campus culture, and the lives of our students, while we're practicing social distancing to protect society from the spread of COVID-19. Today's story features sophomore Kayla Santiago, and was captured by senior Nicole Cier, writing arts, before quarantine. 
Sophomore Kayla Santiago, of Glassboro, NJ (Gloucester County), had never considered applying to Rowan, though it was just a five-minute drive from home — "it's practically in my backyard, and I didn't want to commute." She feared she would miss out on the typical college experience of living in a dorm, but soon discovered that Rowan was the perfect missing puzzle piece in the search for her future career.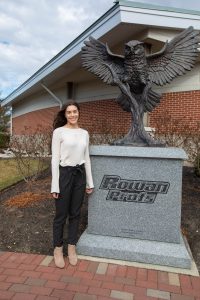 "I originally didn't even apply until the day of the [application] deadline, and then I found out about the Sports Communication and Media (Sports CAM) major, and realized it was perfect for me," she reflects. "It brought me back to the passion I've had for sports since my childhood, when my dad would take me to the Phillies batting practice and I'd be chanting players' names at three years old."
Taking on the Sports CAM and Journalism majors, with a minor in Psychology of Sport and Exercise, Kayla dove into the world of Rowan athletics. She asked her advisor for advice on getting involved in the major as a freshman and found her place with Rowan Television Network right away as a football sideline reporter. 
"RTN allowed me to get experience right away. I mentioned that I was interested in sideline reporting, and they needed a sideline reporter that weekend for football and asked if I could do it," she says. "I had never done it in my life, and it was a really great learning experience to just be thrown into it right away and have to figure it all out."
The following year was a whirlwind of experience, as Kayla found more ways to get involved with sports communications and strengthen her resume. She jumped into play-by-play, color commentating and sideline reporting for Rowan Athletics, as a TV broadcaster. She even broadcasted the first football game of the fall 2019 season against Widener by herself! "We usually don't [broadcast without a partner], but we were first getting into a groove for the season and figuring out our roles. It was definitely difficult, but it was cool to have that pressure and experience to get me started," Kayla recalls.
Since her first year as a Prof, Kayla has expanded her athletic commentating experience to include football, basketball, baseball, softball, soccer, lacrosse, hockey and more! Broadcasting allows her to study team rosters, examine player records and statistics and interview coaches — tasks that allow her to implement the journalism skills she learns from her second major. Kayla even made Rowan Athletics history as the first female play-by-play commentator for football and basketball on TV!
"It's not just about being a sports broadcaster; it's also about making relationships with the coaches and players. You develop a gain of trust, and they want to give you good answers [to your interview questions] and tell you what's going on as much as they can," she says.
"For me, [Sports CAM] is more than just being a fan. I want to keep growing my knowledge and passion about sports and see where it can take me. Now, my whole course load is sports, and how could I not love that? It's exactly what I wanted to do."
Like what you see?
LEARN MORE
Story and photography by:
Nicole Cier, senior writing arts major