Student Government Association (SGA) hosted its annual welcome-back-to-school organization fair the second week of September on the Student Center Patio in the center of campus. With perfect weather and tons of happy faces, it was an afternoon of excitement for students of all years and majors.
Over 40 tables represented dozens of organizations that students can get involved with on campus. From academic societies to activity clubs to sports to Greek life, there really is something for everyone!
"It's cool to see all of the different ways I can get involved outside of class," says junior Darrah McClendon, a communications studies major from Plainsboro (Middlesex County).
Being a part of extracurricular activities beyond the classroom not only introduces you to new friends with similar interests and hobbies, but can lead to great opportunities in the future. "Being a part of PRSSA really strengthens my resume and is a great way to gain more experience in my career field," says Kim Herrera, a junior public relations/advertising double major from Belleville (Essex County). "I've made a lot of friends through the organization."
Jacob Hellick, a freshman graphic design major from Pilesgrove, Salem County, is most "looking forward to finding cool groups of people who like the same things as me," and came to the organization fair to find just that. "There are so many options, I almost don't know which clubs I should choose!" he says.
There was music, candy and excited chatter throughout the event, surely a good sign of the fun that is in store for each of the organizations on campus!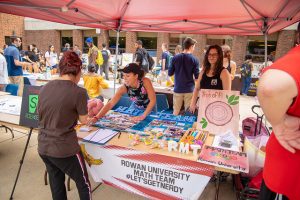 Like what you see? Come visit us!
Enter for a chance to win a Rowan t-shirt! Email RowanBlog [at] rowan.edu with the date and time of your upcoming campus tour … we may just email you that we're going to surprise you while you're visiting!
Story and photography by:
Nicole Cier, junior writing arts major
Additional photography by:
Angel Nieves, junior radio/TV/film major