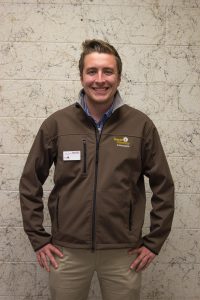 Today we speak with Ryan Klohr, a senior triple major (management, marketing and human resources management) from Ocean Township, Monmouth County, who lives off campus. Ryan will share his #PROFspective with us on what it's like to be a Rowan University student and how he's getting the most out of his college experience as a Rowan Prof. 

Name: Ryan Klohr
Majors: Triple major – Management, Marketing, Human Resources Management within the William G. Rohrer College of Business
Year: Senior
Housing: Off Campus
Minors or concentrations: Spanish minor, Honors concentration, International Studies concentration
Hometown and County: Ocean Township, NJ (Monmouth County)
Off-Campus resident:
Yes, I rent an off-campus house with five friends
Academic clubs:
Society for Advancement of Management (President); Dean's Student Advisory Board member for the Rohrer College of Business
Social clubs:
Chi Alpha Christian Fellowship (Core Leader); Student Alumni Association (Co-Chair of Philanthropy Phanantics, Alumni Board of Directors Student Representative)
Do you work on campus?
Yes, I am an Admissions ambassador in the Office of Undergraduate Admissions, giving campus tours to students. 
Why did you choose your major?
I ended up choosing business by process of elimination. I knew that I didn't want to teach children or work in a science lab, and I'm not really artistic or musically inclined. I was really interested in criminal law, and had at first anticipated into applying as a law and justice studies major. However, a few of my family members convinced me to go into business instead, and I found that it really suited me.
I consider myself a people person, I enjoy leading and finding solutions on how to be more efficient. I was accepted as a management major, which I really enjoyed, but after taking my first marketing class I developed a strong interest in that subject area as well, and I declared marketing as a double major. Later on I developed an interest in HR, and was able to declare a third major in human resources management while still being able to finish in four years.
One reason why you chose Rowan?
After I visited Rowan on a tour, I immediately felt like I would be at home here. The school wasn't too small where I feel like I might outgrow it, and it wasn't too big where I would feel overwhelmed. Once I applied and was accepted, I knew that Rowan was where I meant to be. During my time at Rowan, I have had wonderful opportunities to get a quality education, become involved on campus, develop as a leader, make new friends and learn so much about myself.
My Typical Day as a Rowan Student:
Tuesdays are typically my busiest days this semester. I'm admittedly a procrastinator, and I likely would have spent much of Monday night working on my assignments for my morning classes, so I try to sleep in when I can.
My first class, Managing International Business, starts at 11:00 a.m. I enjoy this class because it helps me to develop a more global perspective about the business world. My second class, Labor and Employee Relations, follows directly after, in which we discuss how management and labor unions can come together in order to make decisions that are best for the employees of a business.

When class is over, I go into work at the Admissions Office in Savitz Hall between 2:00 p.m and 4:30 p.m , where I am responsible for giving tours to prospective students, families, and school groups, and performing administrative functions within the office including processing mail and answering phones.
After work, I typically have meetings at 5:00 p.m for either the Society for Advancement of Management (SAM) or the Student Alumni Association (SAA). In SAM, our goal is to bring in guest speakers from a wide variety of industries to discuss their experiences working in the business world. This club has definitely helped to gain substantial insight to what my future as a businessman might have in store for me. SAA's goal is to establish student-alumni relationship and to promote philanthropic events and charitable giving. I enjoy being a part of SAA due to the amazing experiences I have had at Rowan, and I want to encourage current students to become involved as alumni and to consider donating to the university once they graduate.
My last class of the day, Strategic Marketing Management, has been one of my most interesting classes at Rowan. It involves making real-life marketing decisions about two fictional problems in a sim
ulation. The class also has a strong competition. At the end of the day, I return to my apartment, and two of my roommates and I put together our small group curriculum as a part of Chi Alpha Christian Fellowship. I have been a part of Chi Alpha since my freshman year, and in my four years here, I have grown so much closer to my brothers and sisters within the organization, and in my relationship with God. The rest of my Tuesday nights are usually filled with catching up on homework assignments.
This is just an example of a day in the life of Ryan Klohr. It's a busy life, but it is very fulfilling and rewarding, and I wouldn't have wanted my experience at Rowan to be any other way.
We are #RowanPROUD and we are Rowan Profs! Not exactly sure what a Prof is? It's our owl mascot, Whoo RU. Read about him here. 
Story organized by: Jen Green and Natalia Panfilova