Today we speak to Talia Tomarchio, a recent graduate with a degree in computer science, a minor in neuroscience and an honors concentration. Talia is a transfer student from Rowan College at Burlington County and a first-generation college student. Talia founded the Steminist Squad, an online community for women in STEM industries. Her business won first place at both Rowan's 2020 Idea Challenge and the 2021 Rohrer New Venture Competition and was a semi-finalist in KPMG's Ideation Challenge. 
What kinds of career-related opportunities have you had beyond the classroom? 
I performed research with Dr. Anthony Breitzman (from the Dept. of Computer Science) this semester on analyzing Myers–Briggs personality types through Twitter tweets. I was planning on getting an internship last summer, which would be my first summer at Rowan. I applied for research for undergraduates (REUS) through the National Science Foundation, but because of COVID-19, all the opportunities I applied to got canceled. I reached out to Dr. Breitzman, and he allowed me to do research with him! We started our research over the summer, and we continued it through the fall. I also founded an online community for girls in STEM called Steminist Squad. 
Can you tell me more about the community? 
It started out as an online chat server on Discord where girls can talk about their major, post internships they found, share resources and help each other with homework. It has now grown into a professional development resource and supportive community of like-minded individuals. We also have an inspirational social media presence and a podcast that is coming soon.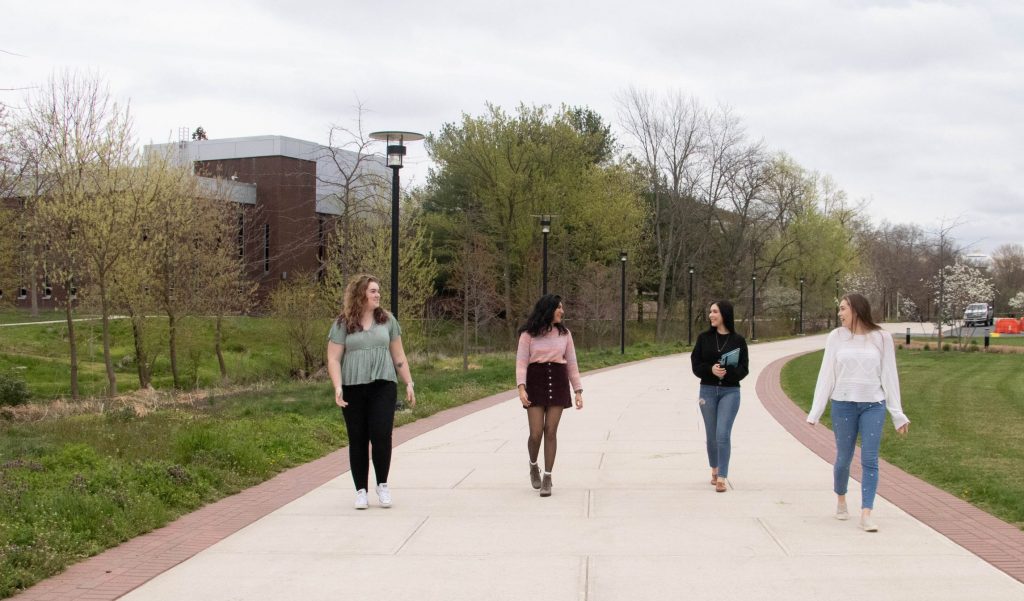 How did you come up with Steminist Squad? 
After coronavirus broke out and closed campus last spring, I was taking a few courses in the summer and realized the impact that online learning had on me as a student. I felt disconnected and missed the campus environment, and I'm sure that I wasn't alone. That feeling inspired me to create a community to connect women from different colleges and communities, and that was the start of the journey to what is now Steminist Squad! 
What was your experience like entering the Squad in idea challenges and competitions? 
It boosted my confidence by practicing my pitch so many times! I met so many new people and learned a lot from the mentors and teachers. I also gained valuable insight on how to pivot the business direction to reach more women and help them. 
What knowledge or skills have you developed through The Idea Challenge and New Venture Competition that you will take with you for future endeavors? 
There are a few major takeaways that I learned from these experiences. I learned the basics of entrepreneurship, like business models, customer discovery and financials. I developed teamwork skills by leading a team of volunteers for two semesters, and my presentation skills have [dramatically] improved. 
Has there been anyone from Rowan that helped you start and keep this community going?
Jessica Vankawala, a junior Biomedical Engineering major in a PreMed program with Cooper Medical School, and Kayleigh Ostberg, a junior Bioinformatics major, have been essential volunteers from the Bantivoglio Honors College. Kadie Davis, a Biomedical Engineering major with a Chemistry minor, also volunteered in the Spring 2021 semester. 
Tapan Soni, once my cybersecurity teaching assistant and now a professional cybersecurity analyst, is an active and vital member of our online server. With the support of Dr. Kristen diNovi and Dr. Susana Santos [featured here], and guidance from Dr. Eric Liguroi [featured here] and Brandon Graham [featured here], I was able to transform this from an idea to reality. 
How do you feel you are helping others with the Steminist Squad? 
Being a first-generation student, I often think about the other girls who don't have the support or confidence in themselves to be successful in school or in life. So, I feel like a part of me understands what they are going through and wants to give them a way to feel included and supported. If it doesn't get any bigger than this and I end up helping one girl gain confidence in what she is capable of, I will be happy. 
What are your future plans for the Steminist Squad, now that you have graduated?
I am planning on taking this summer to grow Steminist Squad. I was accepted into the Rowan Center of Innovation and Entrepreneurship Summer Accelerator program, also known as StartupRU, where I will further develop my startup with the help of mentors and resources. I hope to have a fully functioning model by the end of the summer so I can start recruiting more Squad members for next semester!
Like what you see?
Story by:
Rachel Rumsby, junior communication studies and public relations double major, and Talia Tomarchio, computer science graduate
Photos by:
Rachel Rumsby, junior communication studies and public relations double major
Header photo:
Talia (second from left) with Steminist Squad members Jessica Vankawala, Kayleigh Ostberg and Kadie Davis