Welcome to our series to give you a glimpse into Rowan University, our campus culture, and the lives of our students, while we're practicing social distancing to protect society from the spread of COVID-19. Today's story is from Maria Mancini, a senior isolating from her house in Gloucester County, NJ. Maria is a Public Relations major. 
One of my favorite things to do is go out to eat.
It was always a treat growing up to go out to a nice restaurant with my family and to indulge in everything on the menu. As I got older, the more and more we would go out to eat. Now we are in quarantine and social distancing, and we cannot go anywhere. This has been a big adjustment for everyone, but it has also given me the opportunity to do another thing that I love to do, which is cook.
I was thinking about what recipes I wanted to share with you. I thought I would do a copycat recipe of my favorite appetizer at my favorite Italian restaurant.
Here is my version of fried peppers in a tomato sauce. 
Ingredients:
½ cup vegetable oil

4 green bell peppers, sliced

½ onion, sliced

1 long hot pepper, sliced

½ tsp salt

¼ tsp black pepper

3 fresh basil leaves, or ¼ tsp dried basil

1 cloves garlic, crushed and chopped

1 28 oz can crushed tomatoes

¼ of the crushed tomatoes can filled with water

1 tsp salt

½ tsp black pepper

3 tbsp sugar

½ tsp crushed red pepper, optional

1 tbsp extra virgin olive oil
Directions:
Add vegetable oil into a round pan that is about 4 inches deep and heat on medium high heat. Once hot, add green bell peppers, onion and long hot pepper. 
Season the peppers and onion with salt, black pepper and basil. Mix all together and let peppers fry on high heat for 10-15 minutes, flipping them occasionally. When the peppers are done, they should fall right off of a fork when you try to pick one up. 
Remove the peppers from the pan and set on the side.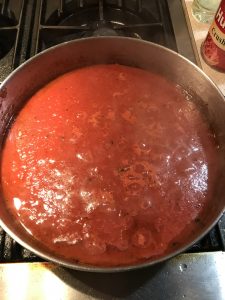 Reduce the heat to medium and add garlic. Once garlic has cooked a little, about 30-40 seconds, add crushed tomatoes, and water.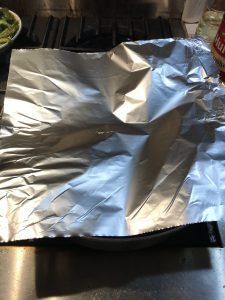 Season the tomatoes with salt, black pepper, sugar and crushed red pepper. Stir and bring tomatoes to a boil, then reduce heat to simmer and cover loosely with a piece of foil. Let the tomatoes cook for 10 minutes, stirring occasionally.
After 10 minutes, add the peppers back into the pan, mix and cover loosely with foil. Cook for another 5 minutes. 
Lastly, add extra virgin olive oil and turn heat off. 
Serve with sliced fresh bread. 
I hope you all enjoy this recipe as much as I do! 
Like what you see?

Story by:
Maria Mancini, senior public relations major