Today, we speak to Natalie Torres, from Morris County, NJ, who is a Rowan alumna. She graduated with a Psychology undergraduate degree in May 2016 and then earned her master's degree in Applied Behavior Analysis (ABA) in August 2018.
We speak to Natalie about why she originally chose Rowan and how Rowan has prepared her for her success as a child psychologist and her current pursuit in becoming a board-certified behavior analyst. 
"I originally chose Rowan because I felt like I would not be just another number. The size of campus and the size of the classes were perfect for me. I didn't have to take a packed bus to different locations just to get to class, and everything was close by."
Natalie also had heard that Rowan had a great Psychology program. She instantly knew that with the distance, size, affordability and the great reputation, that this was the school for her. 
"I always knew from a young age that I had wanted to go into psychology. So many people would come up to me asking me for advice, I enjoyed helping them and working through their problems. I find psychology to be extremely fascinating and helpful! When it came time to start thinking about college and what route I wanted to take, I discussed the possibilities with a teacher of mine. I told her I wanted to go into psychology but more specifically, I wanted to work with children who have autism." 
Natalie feels passionate about helping the education, growth and development of children with disabilities and behavioral disorders. 
"Autism hits close to home for me and my family. So when she told me that Rowan had an applied behavior analysis concentration and a master's program as well, I knew that Rowan was where I needed to be!" 
When Natalie wasn't studying Psychology in her classes, she was pushing her education even further with her on-campus job. 
"I first worked for the payroll services at Rowan, then the Rowan mailroom for two more years after that. Then, I finally began working as a research assistant for my professors in the ABA program. During my master's, I worked for the ABA center as well." 
However, Natalie admits, she has had her fair share of obstacles during her time as a college student.
"The biggest thing I had to overcome was my time management skills. Once I knew that I had successfully gotten into the master's program, I knew that I had to juggle doing hours of research, staying on top of my classes and doing my assignments on time. Time management was essential for me!"
Natalie has achieved so much during her time at Rowan, so we had to ask, did the future seem bright? 
"Throughout my time at Rowan, I was fortunate enough to have amazing professors who were willing to help me at any time. My professors were extremely credible and well-known in the field, so that gave my classmates and I the advantage of receiving great advice and mentoring. I not only felt prepared, but extremely confident that I would succeed!" 
Natalie was not only successful in finding a great education at Rowan, but she also made an amazing connection and relationship too.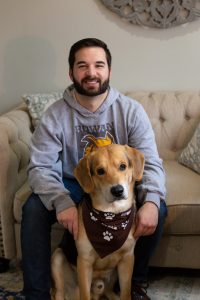 "I believe Rowan has not only prepared me, but also my boyfriend of seven years, Gene."
Natalie's boyfriend, Gene Maier, is also a Rowan alumnus with two degrees in accounting and finance. He now works for the accounting firm Baker Tilly in Philadelphia.
Natalie shares: "Rowan has really helped us both in building our careers. Currently, I'm working for a specialized school for children with disabilities in their autism campus. There, I work with children from various locations ranging from toddlers to adolescents. We bought our first house a year and a half ago here in Cherry Hill. We also got our first dog together too, Carsen!" 
While Natalie has so much success around her currently, we still wanted to know what she has planned for the future.
"I'm currently working on taking the test to get my BCBA certification. Once I become a board-certified behavioral analyst, I can continue to help and support so many more families and children." 
Like what you see?
Story and photography by:
Bianca Torres, junior music industry major