Welcome to our series to give you a glimpse into Rowan University, our campus culture, and the lives of our students, while we're practicing social distancing to protect society from the spread of COVID-19. Today's story is from Jason Russack, a sophomore isolating in his house in Warren County, NJ. Jason is a civil and environmental engineering major who normally lives in Whitney Apartments during the school year.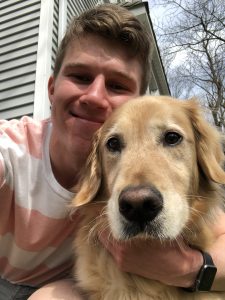 Hello Rowan Profs! Normally I'd be in Whitney Apartments, hanging out with friends and going through my engineering homework. However, being stuck at home, I have decided to take some extra time to bond with my beloved golden retriever, Riley!
Riley is 10 years old and doesn't like the cold much, so she definitely needs to get outside more than ever this spring. I have made it my duty to play with her on every sunny day for at least an hour, even if that means we are just sitting and catching rays in the lawn!  It has proven to be very rewarding being that I love nature. Not only has it helped my boredom, it is definitely healthy to soak up vitamin D and breathe fresh air, while physically distancing myself from others. Stay healthy and get outside when possible, it can make your day.
Like what you see, come visit us!
Story and photography by: 
Jason Russack, sophomore civil & environmental engineering major