Pack some trail mix and water and slip on your sturdiest shoes, because it's National Take A Hike Day and we've got three awesome trails near campus for you to explore!
Hiking is a great way to get a breath of fresh air and exercise on a nice weekend day. And with plenty of nature and parks near Glassboro, there are always many options for trails. Grab some friends and head out there to disconnect from the stress of technology and finals season, and see all of the beauty that the area has to offer!
1. Ceres Park – Mantua, 7-minute drive
Ceres Park makes for a scenic, more intense hike, with steep hills, high ledges and winding paths. Tiny streams and creeks weave throughout some of the trails, providing a peaceful place to rest. No matter which season you visit, the view from the many overlooks and beyond the twisted tree branches is one of a kind. 
Also, if you like mountain biking, this is the place to go! There's a great community of bikers and you can always find a friendly face to guide you through the many hills and obstacles of the park. 
2. Washington Lake Park – Washington Twp/Sewell, 12-minute drive
When there aren't any exciting performances happening at the amphitheater stage in Washington Lake Park, plenty of adventure can be found on the trails behind it! This location is ideal for beginners, because of its simple path and smooth walkway. Small bridges run over the marshy areas of the park, and you'll probably see a few families with their children and dogs throughout the path.
Regardless of your skill level, this beautiful trail is the perfect study break or a remedy for a case of the Sunday Scaries.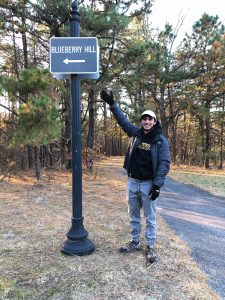 3. Blueberry Hill Trail – Gibbsboro, 30-minute drive
Though this trail may be a longer drive away than the other two, the one-of-a-kind view and terrain at the end make the trek worth it. Follow one of the many trails up the steep hill and wind through the woods until you get to the clearing. This is an ideal spot, up in the trees overlooking an open field, for golden hour. And if you're feeling adventurous, make your way down the hill through the path to check out the rocks below!
What are some of your other favorite hiking trails nearby?
Like what you see, come visit us!
Story and photography by:
Nicole Cier, senior writing arts major