William Moylan graduated with his bachelor's degree in Subject Matter Education/Math (2013) and master's in Special Education (2015). From Park Ridge, NJ (Bergen County), William chose Rowan because he liked the small school feel and the respected education program. The distance was also perfect for him — Rowan was close enough for it to be "close to home" but also far enough away so he could "get away."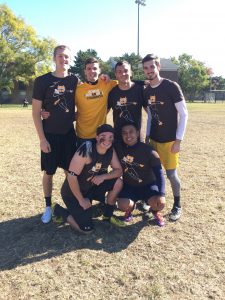 Bill worked in the Recreation Center when he attended Rowan. He says that many of the essential skills that helped him then and later in life were provided by the Rec Center, such as resume building, social skills and figuring out where he wanted to take his career.
Bill also worked with Unified Sports, a program where Special Olympics athletes and Rowan students come together to play competitive games; it also offered students volunteer coaching opportunities. This experience led Bill down the career path he's in now in special education. It helped him realize how important working in a positive atmosphere is, and he wanted to instill that feeling to more students.
Bill recalled his idea to have he and the other coaches start wearing suits to their games. Along with suits, they'd wear different outfits for certain events, like pink for breast cancer awareness and Hawaiian shirts for the Hawaiian Invitational event. This tradition, along with others started by Bill and his friends, carries on to this day.
Bill said the most exciting thing he's currently doing is working with the Special Olympics and Unified Sports, "being able to make an impact on individuals with intellectual disabilities and how that environment around Unified and the atmosphere can trickle into every day life and society," he explained.
The most fulfilling part of his career now is working with the intellectually disabled, being able use his youth right now to show that he's been in their shoes and that their struggles are OK. He shows them a perspective from an inclusive atmosphere to help them be able to grow.
Bill teaches math at Whippany Park High School, where he says he always talks to his students about the positive environment you can find in college and in general how valuable the experience of college can be.
This is Bill's fifth year teaching, and the first year that he's seeing students he's been with throughout their high school experience graduate and move on to college. He says 12-15 of his students are coming to Rowan for the class of 2023.
When asked if he had any advice for students interested in his career path, Bill believes the biggest thing that made his application stand out from others was his involvement with the Rec Center, Unified Sports and the Special Olympics. Bill urges any student to start joining clubs and getting these valuable experiences as soon as they can. He mentioned that he started working with Unified Sports during his junior year and wishes he had started even sooner.
Like what you see, come visit us!
Story by:
Dean Powers, sophomore radio/TV/film major
Photos courtesy of:
William Moylan