Claire Jesseman, a senior Music Industry and Spanish double major from Ewing, NJ (Mercer County) may have discovered her favorite sound: the "ding" of a new email notification! Through opportunities sent out to Music Industry students by her professors and program coordinators, her Rowan education is actively filled with traveling, networking, and experiencing her field first-hand. Claire discovered the Music Industry major after transferring from her community college in 2017, and fell in love with the many perspectives it offers.
"As a female vocal performer, I wanted to learn the behind the scenes of music production to have a little more knowledge and credibility under my belt," Claire explains. "I want to carry myself and my career without relying on anybody else, which is why I pursued the Music Industry major with a concentration in Music Technology."
While enrolled in the Disney College Program in Florida, Claire was able to travel to Miami — a growing hub in the music industry — and attend music business conferences, which introduced her to the scene. She began volunteering with the American Engineering Society, where she gained access to workshops and panels with sound engineers and other music industry workers. "Attending these events was a great way to network and really get my foot in the door," she says.
Upon her return to Glassboro, she actively checked her email, awaiting an opportunity to dive into the world she had fallen in love with in Miami. As part of the Sound Reinforcement course requirements, which focuses on live music sound, Claire and her classmates had to shadow two different people in the music industry at venues her professor had connections to. Claire shadowed professionals in the industry at popular local venues, including the Electric Factory in Philadelphia, where she worked with the crew to assist singer H.E.R.'s performance! Her favorite part was applying concepts learned in her classes to real-life performances of artists she admires. "To see piece by piece how everything we learned comes together to produce something was really inspiring, and helped me understand what we learned," she says.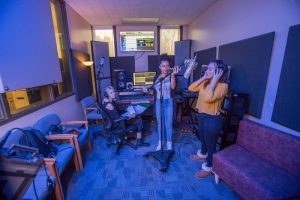 Claire's experience continued to pick up as she became part of the Sound Girl organization started on campus by Professor Barbara Adams. The group provides support and experience for females internationally who are involved in sound engineering and production in a male-dominated industry. Through Sound Girl, Claire hosted the Ladybug Festival near Wilmington, Delaware, where she worked the soundboard and sound console components for performing acts. The festival is a well-known networking place for business owners, artists and other industry leaders. Claire found this out for herself when she met a connection through LiveNation, leading to more hands-on shadowing opportunities!
"Professor Adams was the gateway for me to enter these venues that I admired, and meet some really cool people," Claire says. "Having such passionate, involved professors provided me with the opportunities I had been waiting for to kickstart my career."
Like what you see, come visit us!
Story and photography by:
Nicole Cier, junior writing arts major