Have you heard of Holy Tomato? If not, then you have got to get in the loop with the best places to eat in South Jersey. This incredibly cute, aesthetically-pleasing pizzeria 20 minutes from campus makes the best flatbread pizza pies, fresh salads and homemade desserts like key lime pie and sopapilla cheesecake with butter sauce. Located on the Black Horse Pike in Blackwood, it's a quick drive for Rowan students to have a fun night out with a group of friends. The food is served family style and the tables accommodate large groups of people.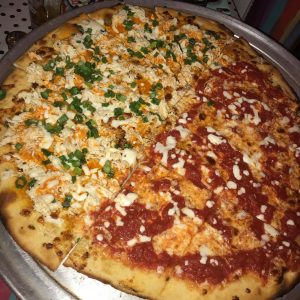 The small, family-run business has become a booming success filled with customers every single day. There's now outdoor seating! So grab a friend, bring your appetite and enjoy some heavenly pies.
Like what you see? Come visit our campus!
Enter for a chance to win a Rowan t-shirt! Email RowanBlog [at] rowan.edu with the date and time of your upcoming campus tour … we may just email you that we're going to surprise you while you're visiting!
Story and photography by:
Vanessa Vause, senior public relations and advertising major