Today, we speak with Melissa Martinique, a junior early childhood education and literacy studies major from West Milford Township (Passaic County), NJ, who lives on campus in townhouses. Melissa will share her #PROFspective with us on what it's like to be a Rowan University student and how she's getting the most out of her college experience as a Rowan Prof.
Name: Melissa Martinique

Majors: Dual major in Early Childhood Education and Literacy Studies, with the Teacher of Students with Disabilities Endorsement.
Year: Junior
Hometown and County: West Milford Township, NJ (Passaic County) About a 2 hour and 45 minute drive from Rowan!
On Campus Resident: Yes, in townhouses.
Academic clubs: I am the Vice President of the Student Council for Exceptional Children (SCEC). In SCEC, we advocate for and volunteer with individuals with special needs, as well as educating our members about various aspects of the disability community. Aside from attending various events with organizations we work with, we also hold our own events on campus, our most notable being our Bringing Up Down Syndrome Prom, the Autism Walk, and the Autism Benefit Dinner that we co-sponsor with the Italian American Club and the Academic Success Center.
Do you work on campus? I do! I am currently an Admissions Ambassador, where I give campus tours to prospective students and their families.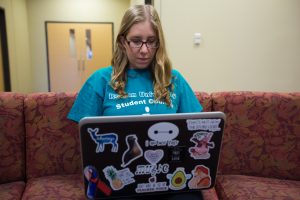 Why did you choose your major? Obviously, I really enjoy working with children, but one reason I decided to go into this field is because I have very fond memories of my childhood and schooling experience, and I want to provide the same for others as well. Children are so naturally curious and open to knowledge, and it is our job as teachers to feed that spirit and encourage it. We have to show children the value of the pursuit of learning; we have to take them by the hand and show them all the wonderful and intriguing things about our world and then let them explore it on their own. Having a thirst for knowledge is a lifelong skill that serves its owner tremendously, and we have to start that in our children at a young age, and it is a challenging yet rewarding job as a teacher to be able to instill those values in children.
Specifically, I want to work in special education. I volunteered with children with special needs in high school through my dance studio. I really enjoyed watching children succeed after so many people thought they couldn't do what was expected of everyone else. As cliché as it is, they are truly able to do what everyone else does, just differently and at a different pace. It's an amazing process of growth to watch, and it's something I want to be a part of.  
One reason why you chose Rowan? I chose Rowan for a lot of various reasons, but the aspect that helped me make the final decision was the details of my program. In my major, I will be certified as an early childhood teacher, a reading teacher, and a special education teacher. I'll have three different certifications when I graduate, which is extremely useful. It makes me the most knowledgeable and marketable that I can be.
My typical day as a Rowan student:
My typical day depends on what day of the week it is. This semester, I have all my classes on Mondays and Wednesdays, and the rest of my responsibilities on the other remaining days. On Mondays and Wednesdays, my mornings start at 8:00 am, when I wake up and get ready for the day ahead of me. My first class is my children's literature class at 9:30, and then I have my writer's mind class right after it. I have about a two hour break for lunch in the Marketplace, and then I go to my School Reading Problems class. School Reading Problems, or SRP as we tend to call it, is the first clinical class in the reading endorsement.
The really cool thing about my dual major of literacy studies is that the endorsement for a reading teacher is built right in, whereas other education majors with other dual majors would need to add the reading endorsement on top of their dual majors in order to be certified as a reading teacher. In SRP, we have a regular class, and then we have an hour long period where we tutor an actual student from the surrounding area who is struggling with reading or writing, which is a super cool experience. We have get our own mini classroom that we get to decorate, we have to write weekly lesson plans, and then we have to implement and teach those lesson plans. Basically, I get extra opportunities to practice being a teacher!
I also took my first bundle of special education classes this semester, but because I took them online, they were only eight weeks long and they're finished already. But I absolutely loved the experience and I wish it lasted longer! On Tuesdays, I was in a self-contained multiple disabilities classroom in Mantua Township with students who had severe autism. It was an amazing learning experience and my cooperating teacher was super compassionate and she was always giving me opportunities to learn and try things out, and she wasn't afraid to give me constructive criticism when I needed it. This is probably the field experience I learned the most from by far.
Now, though, on Tuesdays, Thursdays, and Fridays, I work in the Admissions Office as an Ambassador. My daily schedule for that job usually consists of giving tours to high school students and their families, as well as working in the Admissions Office sorting mail, preparing for Open Houses, and other book keeping things like that. On choice Sundays, I work at open houses where I give more tours (surprise surprise) and help families find their way around the university while they attend various informational sessions. After work, I usually go to the gym with my friend.
Otherwise, my time consists of club meetings, studying, and doing homework. My club, the Student Council for Exceptional Children, meets one Tuesday a month at 8pm in James Hall. In addition to meetings, I also work with the president and the rest of the E-Board planning upcoming meetings and events. When we have an upcoming event, we end up meeting more than once a month in order to get work done and prepare for what's ahead of us. When I'm doing work, I LOVE going to the library. I always tell people it's my happy place on campus.
When I get some free time hang out with friends, watch YouTube videos and A Series of Unfortunate Events on Netflix, stay in my bed and never leave, and color. Contrary to the popular trend, I hate adult coloring books and I always color in children's color books in true education major style.
Like what you see? Register for a tour or open house.

Related stories:
#PROFspective: Elementary Education & Literacy Studies Major Katherine Brown
Education Honor Society Hosts Pajama Party
Inside Look: Friendly Faces in Evergreen Hall
Story organized and photography by:
Vanessa Vause, junior public relations major and advertising minor