Want a way to set your day up for success? Improve your overall physical and mental health? Fit in exercise into your busy schedule? Cycling instructor Beth invites you to join her in her Rise and Ride, a 7:00 a.m. cycling class for go-getters looking to start their day off on a positive foot.
Beth first started cycling when she was in college about 20 years ago and hasn't stopped since. She loves cycling for the mere fact that it's really for anyone; any size, any shape, any age. Beth takes pride in the fact that she is an unstoppable rider, despite her stature not looking like the typical "Barbie fitness instructor" as she says. She proves that young or old, experienced or not, anyone can join her cycling class and benefit from the exercise — and I can personally vouch for that.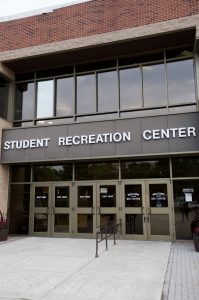 I attended Beth's second Rise and Ride class ever instructed upstairs in the Rec Center in the cycling room across from the indoor track. Intimidated to say the least, I walked in with a positive mindset ready to get my butt kicked. Beth was incredibly welcoming and introduced me to the world of cycling, an aspect of fitness I never tried before. She took me through the steps of getting comfortable with the bike and adjusting the seat to my preferences, something she will do with any first- time rider like myself. Beth went over the benefits of cycling and how working out in the morning creates a ripple effect of positive things to happen for my entire day.
It's nearly impossible to gain weight when eating after exercising because my body will burn it right off. In addition to that, I mentally want to choose healthier foods for the day knowing that I got up early to work out, burnt calories and grew muscle strength. The cliché quote from Legally Blonde "Exercise gives you endorphins and endorphins makes you happy!" really applies here with the fact that you will put yourself in a better mood after treating your body to the exercise it deserves.
We went through a 45 minute workout including a variety of different moves from standing up to sitting down and pushing through. I was dripping sweat by the end of the class and it felt amazing. Like Beth said, "It's only 7:45 and we already conquered the day while others are still sleeping."
With the class being held at 7:00 a.m., any student could join being that the earliest class is at 8:00 a.m. The best part: there's always parking! Beth, who works in Admissions as an Assistant Director of Admissions, showers off and heads to work after her cycling class. It truly sets her up for a positive day.
"You're getting the hardest part of your day done," she says, and I couldn't agree more. After that cycling class, I was tired, but it was a good exhaustion. My body felt great and I'm eager to attend my next cycling class with her. In case 7:00 a.m. doesn't work for you, other instructors teach cycling throughout the day at the Rec Center. In fact, they offer many different classes from Yoga to Zumba to Strength & Endurance. To see a full list of classes offered, click here.
Thanks Beth for the early morning grind session. Be sure to attend one of her classes on Tuesdays and Thursdays at 7:00 a.m. She even takes song requests and has themed classes, so pop in around October 31st for a Halloween Themed cycling class.
Story and photography by:
Vanessa Vause, junior public relations major and advertising minor